Post by Angie on Sept 1, 2010 13:31:56 GMT -5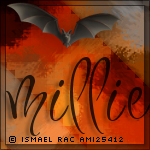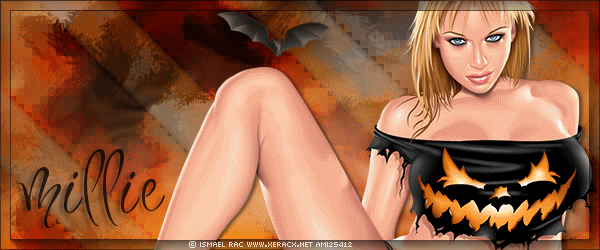 I'm using the art of Ismael Rac.
I bought this tube when he was with AMI.
Ismael is now independant & you can purchase a license to
use his work at his store
Here
You need a tube & font of choice.
Eye Candy Nature Smoke.
Mura Meister copies
AAA foto frames (optional).
I also used a Jasc picture tube of a bat that comes with Psp
Open a 600 x 250 image.
Paste your tube, if using the same one as me,
I added one of the pumpkins to add some colour.
Merge visible
Apply Mura copies, wallpaper shrink.
Effects, Art media effects, Brush strokes.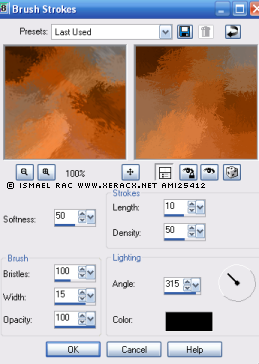 Distortion effects wave.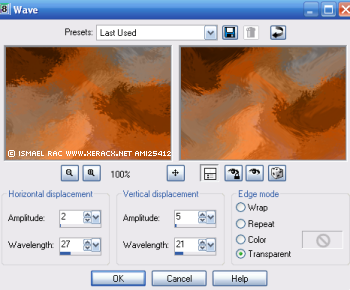 Duplicate, mirror, set layer properties to Luminance legacy.
Merge visible.
Preset shape tool rectangle.
Foreground null, background black.
Draw a rectangle in the middle of your image.
Convert to raster.
Rotate left 45 degrees.
Apply Mura copies Line
With your magic wand, hold down shift & click inside all the rectangles.
Highlight your background layer.
Promote selection to layer.
Select none
Delete the black rectangles
Add a drop shadow -1, 1, 50, 5 black
Repeat changing the settings to 1, -1
Effects, distortion effects pixelate.
Block width 8, height 8, symmetric unchecked
Set layer properties to soft light, duplicate.
Merge visible.
If you're using AAA frames, apply it now.

If you're not using AAA, new raster layer,
click inside with your magic wand.
Selections modify, contract by 4, floodfill black,
selections, modify contract by 1, delete.
Add a drop shadow.
Paste your tube, resize if necessary & position.
Add your name & copyright
The animation.
If using AAA foto frame, selection tool, rectangle
Highlight your background & draw a rectangle around the inner border.
Apply Eye Candy nature Smoke.
Choose large classic in the settings.
Then Color & Lighting
Then basic.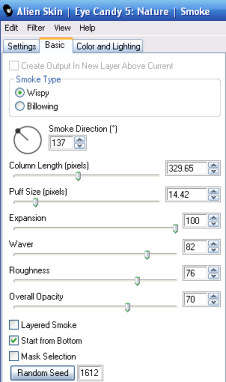 Select none
Copy merged & take to Animation shop, paste as new animation.
Back to psp undo select none & smoke, repeat, clicking on random seed.
Copy merged & take to AS, paste after current frame.
Repeat 3 more times until you have 5 frames.
If you're not using AAA foto frame, click inside your border, then apply the smoke as above
Set the frame speed to around 20 & that's it, hope you enjoyed